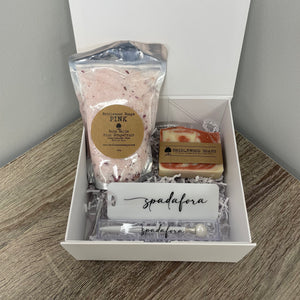 Our teachers work tirelessly all school year long for our children, giving their all to help each student achieve their best! Show your appreciation with this special gift that will be sure to help your child's teacher feel valued and loved.
Included in our small sized personalized magnetic gift box is a personalized acrylic bookmark, & Canadian/handmade, natural soap & bath salts and a personalized fancy pen. Different bookmark options and scents available, please see listing below & place your selections in the notes section at checkout, as well as teacher name. To view photos of each product, please see the individual listings online. 
Everything comes wrapped, with a bow, ready to give! 
Bookmark options: Black, clear, white
Tassel colour: Black, white
Soap Scent options: Citrus, Beer, Flower Power, French Clay Lavender, Lemon & Lavender, and Pink Salt.
Bath Salt options: Detox, Milk, Pink, Relax.